We handcraft small batches of gourmet popcorn that make a big impact through our Garrett Cares® programs. We support meaningful initiatives that help promote social justice, wellness, child and family services, education, and the arts in the communities we serve—one kernel at a time.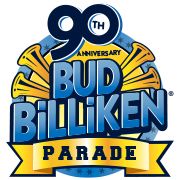 90TH BUD BILLIKEN PARADE
When: Saturday, August 10 @ 10 a.m.
Where: Bronzeville neighborhood, Chicago (starts on Martin Luther King Drive, ends in Washington Park). Broadcast on ABC7 Chicago.
The Bud Billiken Parade is celebrating its 90th anniversary this year and is now the largest African-American parade in the United States! Keep an eye out for the Garrett Popcorn float, and be sure to stop by our post-parade festival booth for samples of the original-Chicago style popcorn, Garrett Mix®. When two Chicago institutions come together, you know it's going to be a celebration!
RONALD MCDONALD HOUSE CHARITIES
This past September and October, for the third year in a row, the Garrett Team volunteered their time and talents to Ronald McDonald House in Chicago to curate, cook, and serve lunch to the families staying in the house.
BREAST CANCER AWARENESS MONTH
This October, Garrett fueled the people and organizations who support those impacted by breast cancer. We scooped and served complimentary Garrett Mix® at events in Chicago, Atlanta, Detroit, and Washington, DC.
The Pink Fund – Dancing with The Survivors 2018
Where: Southfield, MI
When: October 5, 2018
The Pink Fund provides 90-day non-medical cost-of-living expenses to breast cancer patients in active treatment* for breast cancer, so they can focus on healing, raising their families, and returning to the workplace.
*Active treatment is defined by The Pink Fund as the period after positive diagnosis of breast cancer has been made, you have received a treatment plan from your doctor and will be receiving chemotherapy, radiation or a surgical procedure. A surgical procedure is defined as a single or bi-lateral mastectomy, lumpectomy, axillary dissection or sentinel node biopsy. Reconstruction does not qualify as Active Treatment.
Donna M Saunders Foundation - Hattitude About Breast Cancer
Where: Springfield, VA
When: October 6, 2018
The Donna M. Saunders Foundation For Breast Cancer Education and Support was founded in January 2012. The foundation was created to honor a remarkable daughter, sister, aunt and friend, who lost her battle with breast cancer in August 2010. The goals of the foundation are to provide educational awareness to the public about the disease and financial support to breast cancer patients. It is the foundation's hope to provide support to those in need as they receive treatment for breast cancer and to ensure that people are educated about the disease to assist in the prevention. The founding members were Nardos King, Stacia Shields, Tracy Brown, Darling Richards, Jacqueline Lee, Rodney Ramsour, Sonya Bethea and Bronte Montgomery. Darlene Akers replaced Rodney Ramsour in March 2013.
Gilda's Club Metro Detroit – 10th Anniversary Bras for a Cause Fashion Show
Where: Royal Oak, MI
When: October 13, 2018
Gilda's Club Metro Detroit ensures that all people impacted by cancer are empowered by knowledge, strengthened by action and sustained by community. The organization creates welcoming communities of free support for everyone living with cancer – men, women, teens and children – along with their families and friends.
Kendra Scott and Inheritance of Hope – 3rd Annual Holley Day
Where: Atlanta, GA and Chicago, IL
When: October 13, 2018
Inheritance of Hope's mission is to inspire hope in young families facing the loss of a parent. The 501(c)(3) charity was founded by Kristen and Deric Milligan following several years of coping with the challenges of raising three young children while battling Kristen's terminal cancer diagnosis. Sadly, Kristen lost her courageous bout with cancer in 2012, but her legacy lives on as Inheritance of Hope uniquely serves families like her own.
Lynn Sage Cancer Research Foundation – Fall Benefit Luncheon
Where: Chicago, IL
When: October 22, 2018
The Lynn Sage Cancer Research Foundation is one of the nation's leading breast cancer research and education charities. It was founded in 1985 in memory of Lynn Sage, a Chicago-area woman who endured a six-year struggle with breast cancer before she died at the age of 39. The foundation's mission is to support the understanding, research and treatment of breast cancer in partnership with Chicago's Northwestern Memorial Hospital and the Robert H. Lurie Comprehensive Cancer Center of Northwestern University.